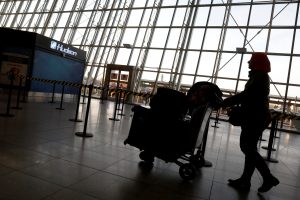 Trump banned travellers from 7 countries in Jan
*Study says move has deterred other travellers too
Seattle judge suspended ban order last week and case is in court
President Trump banned travellers from seven countries from entering the United States through an executive order passed in late January.
A Seattle judge suspended the order last week and the US administration has taken the case to court for an appeal. The final ruling is yet to be made.
Yet, outside the courtroom and apart from the uproar the matter has caused in the United States and abroad, the travel ban has deterred travellers not just from the listed seven countries, but from elsewhere as well, a new study revealed.
When the travel ban was in place from January 28 to February 4, bookings to the United States dropped 6.5 percent, including an 80 per cent slump in reservations from the seven countries listed on the order. There was also an additional 13.6 percent drop in bookings from Western Europe.
(Technology firms to urge Trump to alter U.S. travel ban, sources say)
Rush to get in
On the other hand, the data revealed that on January 27, the day Trump issued the executive order, bookings were 3.4 higher than those recorded the same period last year.
ForwardKeys, which released the data after analysing 16 million flight reservations per day from major global reservation systems, said international arrival bookings to the US dropped overall.
At the time of revealing the data, bookings for international arrivals to the US over the next three months were 2.3 per cent higher than the same time period last year.
On the day the curbs were lifted by a US judge, bookings from Iran surged, ForwardKeys said, leaving reservations for travel to the United States five times higher on February 3 and 4 than the same two days a year earlier. Most of those bookings were for arrival in the United States on February 5 and 6.
Read more: http://ameinfo.com/travel/trump-middle-east-travel-ban-deters-travellers-study/